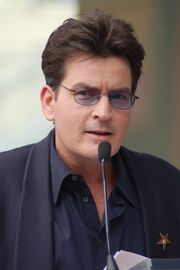 Carlos Irwin Estévez (born September 3, 1965), best known by his stage name Charlie Sheen, is an American actor. He portrays Charlie Goodson in the FX sitcom Anger Management.
Charlie Sheen starred in more than 40 feature films, catapulted to fame in such critical and commercial hits as Platoon and Wall Street. His other feature film credits include Red Dawn, Lucas, Ferris Bueller's Day Off, Eight Men Out, Young Guns, Major League, Hot Shots!, Hot Shots! Part Deux, The Three Musketeers, The Chase, Money Talks, Being John Malkovich, Scary Movie 3, Scary Movie 4 and The Big Bounce. He also appeared in the television movies Rated X and Good Advice.
Sheen became known to television audiences through his Golden Globe® Award-winning lead role in Spin City. In 2003, Sheen was cast as "Charlie Harper" in the CBS sitcom Two and a Half Men, which was loosely based on Sheen's bad boy image. The role garnered him an ALMA Award and four Emmy® Award nominations, as well as two Golden Globe Award nominations for Outstanding Actor in a Comedy Series.
Sheen now stars on FX's Anger Management, returning for its second season in January 2013. He recently wrapped work on Scary Movie 5, which is scheduled for release in April 2013.