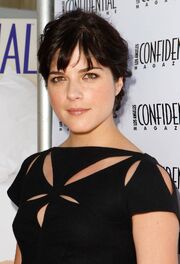 Selma Blair
(born
Selma Blair Beitner
; June 23, 1972) is an American film, television and stage actress who has starred in blockbuster and art house films as well as in independent and low-budget directorial debut films. She portrays
Dr. Kate Wales
in the FX sitcom
Anger Management.
She has worked with an array of prominent film directors including Todd Solondz (Storytelling), Guillermo del Toro (Hellboy and Hellboy 2: The Golden Army), Robert Benton (Feast of Love) and John Waters (A Dirty Shame).
Other film credits include Cruel Intentions, Legally Blonde, The Sweetest Thing, In Good Company and Pretty Persuasion.
For her reading of "The Diary of Anne Frank: The Definitive Edition," Blair was nominated for a 2011 Grammy (Best Spoken Word Recording for Children).
She will be seen next starring opposite Christopher Walken and Mia Farrow in Todd Solondz's Dark Horse and stars opposite Charlie Sheen in Anger Management for FX.